All New Gay-Samui.com
The gay community here on Koh Samui is pleased to announce the launch of its new website still at the old URL  www.gay-samui.com.  The site is designed to be easy to use on all platforms from the smallest smart phone to the largest big screen.  As with the old website it is a simple one-click shop where you can see all the most gay friendly businesses on the island split into the categories of Accommodation, Tours, Massage and Nightlife.
New features for this website include the Events Section where you can find clear exact up-to-date information on regular events and a new satellite map which will show you the exact location of each venue with a URL link back to the business details on the website.
Finally  "a word from our sponsors"  if you know any business that would be interested in advertising on this website there are a few 120×120 advertising blocks available.   Google search on the words "gay Samui"  and you will see that our website is the number one search result and think how that could help your business.
Ever Tried it Underwater?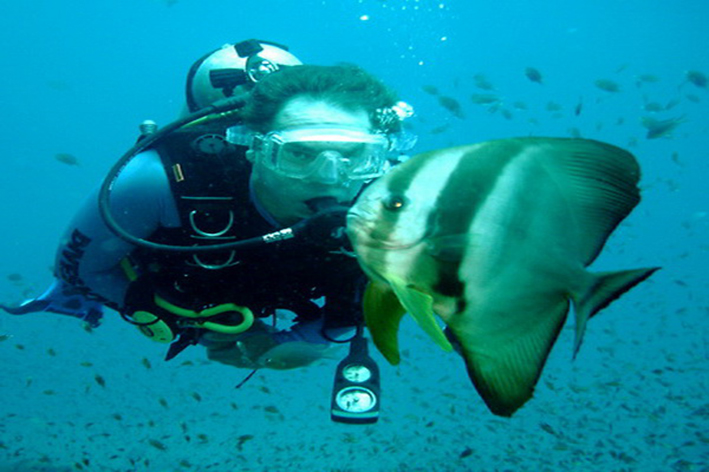 The calm clear waters around Samui is an ideal place to try snorkelling or scuba diving for the first time and if any of you out there are feeling slightly nervous then remember there is nowhere else in Thailand where you have a gay instructor to hold your hand…  Rainbow-Scuba & Tour is a member of PADI (Professional Association of Diving Instructors) and teaches the whole range of PADI certification courses as well as leading snorkelers and certified divers on day and overnight trips.  If you want to try scuba diving you can choose from many PADI programs: 1 Day Try Dive; 2 Days Scuba Diver; 3-4 days the full Open Water certificate.  See more details on their web site www.rainbow-scuba.com
Gay Point Hits the Spot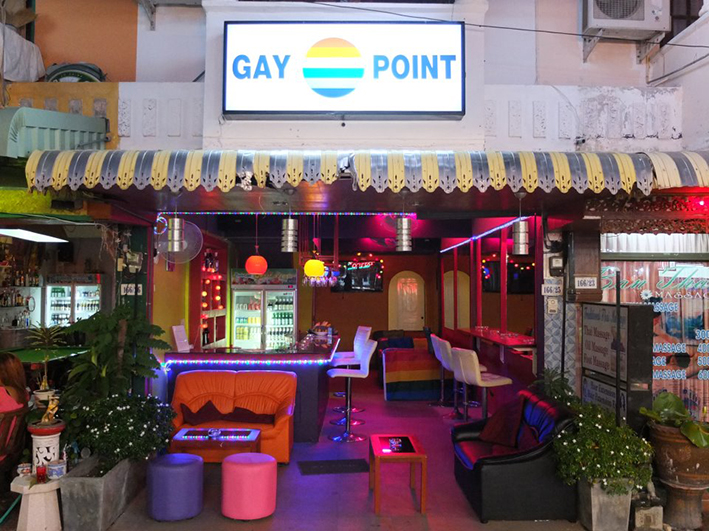 It may be small but it is perfectly formed.  Gay Point Bar is a friendly relaxed place to spend some evening time and its conveniently located in the center of Chaweng's night life area.  Special service to customers, you can bring your own music and plug in to the sound system.  There is a pool table and Free Wi-Fi.  Lots of original art work on display makes a unique drinking experience.  Many items are for sale and you can speak to owners Jay or Daniel about commissioning your own piece. No website but details and location on www.gay-samui.com
OUT+ABOUT  Massage Excursions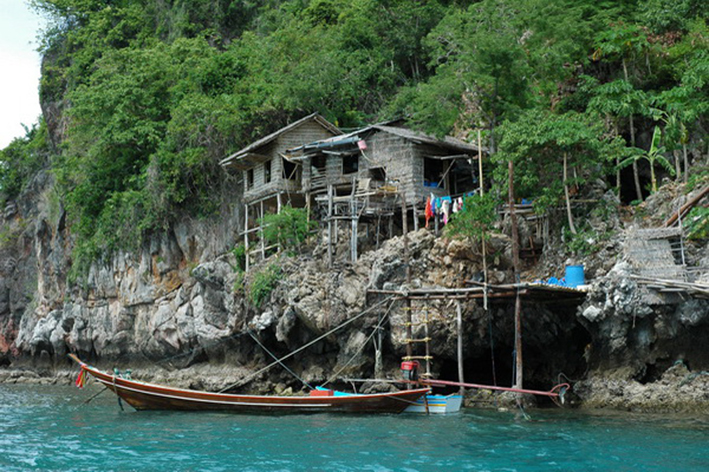 Here is a new experience for gay men visiting Koh Samui: a whole day of indulgence.  The day starts with a drive to Samui's beautiful West Coast where a long tail boat is waiting to take you on a tour around the mysterious Five Islands off the SW coast.  You will be able to explore these rugged outcrops at close hand (with optional snorkelling) and after that a Thai massage and skin treatment awaits you in a tropical beach Sala given by the staff of the Emerald Green Mens Club.  Finally enjoy a sumptuous 3 course lunch with chilled drinks at The Islands View Restaurant.  This luxury package is top award winner in OUT in Thailand Magazine reader awards and is only available through the Emerald Green Mens Club, Koh Samui. For more details see their web site www.emeraldgreensamui.com