Gay Chiang Mai with different perspectives for Thai and Foreigners
By David Edwards
Ask any young gay Thai guy about the gay bars of Chiang Mai and they will likely give you a blank look.  The gay scene as understood by visiting foreigners and ex-pats is quite different to that perceived by the vast majority of Chiang Mai's current generation of LGBT Thais.   For many of these boys, life predominantly revolves around their smart phone and not around bars.  Of course, through online associations they may know of Chiang Mai's two gay saunas and even have visited.  They could also have heard of Chiang Mai's gay commercial options, with its go-go bars, massage shops and mountain boys.  But, the chances are they won't know anything regarding the places where foreigners go and won't be interested.
With the internet has come knowledge, and with knowledge empowerment.  The youth of Chiang Mai, can appreciate so much more about life than that limited agenda they were taught in school or gleaned down on the rice farm.  They can grasp the issues surrounding sexuality and find friends online to discover and share the latest local gossip with. There is also a better comprehension of social issues associated with homosexuality including the role of prostitution. In the past prostitution, whilst not acceptable, was tolerated by blind eyes mindful of economic realities.  In this modern era, it is considered with far greater distain.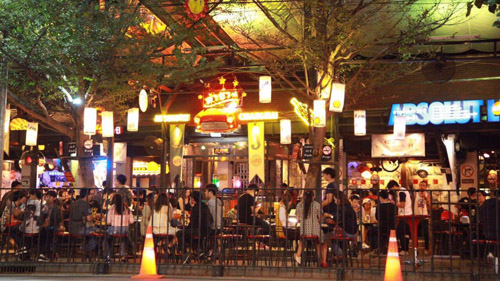 ThaChang Café in Chiang Mai – one of many hangouts preferred by gay Thais
Online friendships extend into the real world too.  Sure, there are places where gay Thais congregate in groups to eat drink and socialise in Chiang Mai, though they are not what westerners would call gay establishments.  The popularity of such places is very changeable.  One week, this or that restaurant is the gay place to go, and next week another place opens and becomes the next trendy venue of choice.
The late night scene in Chiang Mai was always an attraction for gay Thais.  But, this has been curtailed during the last couple of years with stricter enforcement of closing times.  Some big clubs such as Mandalay Bar CMI, Warm Up and Tawan Deang are still frequented, and often a gay corner emerges as customers of similar persuasion coalesce together.  Prior to the crackdown two big gay clubs emerged and at weekends were packed until dawn, sadly G-star has gone and See Man Pub is currently closed.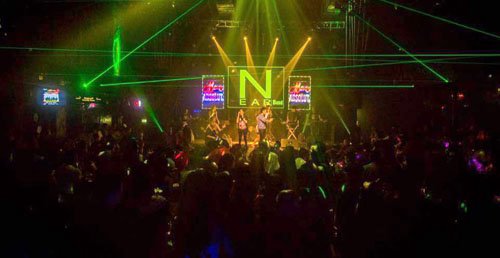 Live bands at Mandalay Bar CMI – one of Chiang Mai's Big Clubs
Chiang Mai – from Garden City to Concrete Jungle
Chiang Mai city itself has changed enormously in recent years with a major boom in construction. Quiet lanes with their old wooden houses are being replaced with modern concrete condominiums, shop houses and hotels.  Chiang Mai is transforming from a garden city to a concrete jungle with chaotic traffic in abundance.  In areas such as Nimmanahaeminda Rd, once a quiet residential suburb, a trendy nightlife district has emerged, packed with bars, restaurants, coffee shops, boutiques and, more high-end apartments and hotels.  In addition, there is the centrepiece Maya lifestyle Mall along with Think Park and the soon to be opened Nimman mall and hotel at the site of the old Amari.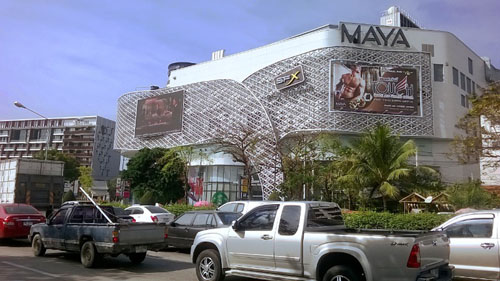 The Maya lifestyle Mall in Chiang Mai at the end of Nimmanahaeminda Road.
Outside the city, a whole new neighbourhood is growing up along highway eleven between the massive Central Festival Mall and The Promenada mall with lots more shopping, business and entertainment areas.  There is de-centralisation of people too as they move to residential districts outside the city.  Resident gay ex-pats are also moving to houses in quieter outlying villages rather than condos near the centre.  With the number of bars and restaurants exploding, these demographic changes have stimulated growth.  However, it's had a negative effect on the old city centre venues, and the foreign gay bars.
The Gay scene for foreign visitors
So what of the traditional gay scene familiar to foreign visitors and how has it been effected by the changes described above?  In the last two years the bar scene has seen something of a resurgence with the emergence of gay soi 6 at the night bazaar.  Soi 6 Chareon Prathet Rd, runs from Chang Klan Rd, opposite Le Meridien Hotel, down the side of the kalare night bazaar complex.  The soi and adjacent areas are now home to almost all of Chiang Mai's gay social life.  Although some bars are more social meeting spaces, others still have freelance money boys hanging out and playing pool.  These boys are mainly hill tribe or Tai Yai (Burmese), or even from Laos.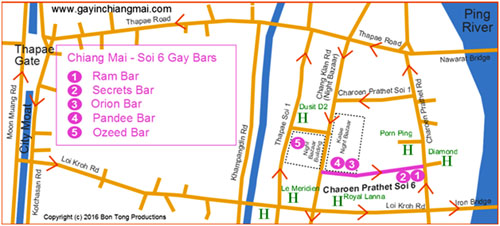 Gay Soi 6 and Night Bazaar Bars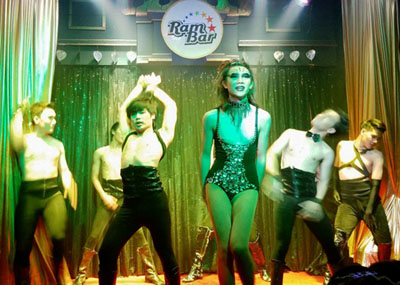 Cabaret show at Ram Bar – Gay Soi 6 – Every Monday through Saturday night
Secrets Bar – one of the popular bars on Chiang Mai's gay soi 6 and the only one with Air Con
Elsewhere, several bars have closed, or moved to Soi 6 meaning everywhere is close together nowadays.  In Chang Puek and Santitham districts the somewhat subdued Garden Bar at Lotus Hotel is one of few remaining.   But, it has just been reinvigorated with the addition of a smart swimming pool next to the bar.   The most recent closure was the long running and popular Soho Bar; a big loss to the ex-pat gay community.  As a sign of changing times, a few former Soho regulars can be found adorning the bar at the very mixed Black Door in Santitham.  This neighbourhood bar's clientele is predominantly younger straights.   Nevertheless, the bars outgoing gay owners make it a fun and welcoming place.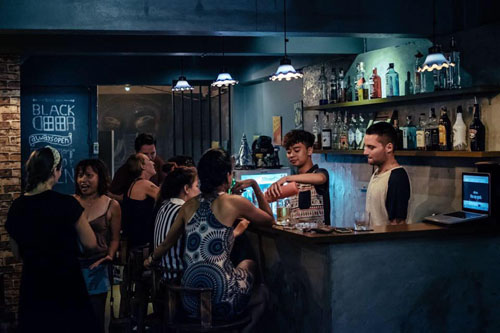 Black Door – Gay Friendly and fun Santitham Dive bar
By contrast, the commercial scene: go-go bars and massage parlours has changed little in a decade.  Three of the four go-go bars remain, whilst Free Guy has dropped their show and transformed into a host karaoke bar.  If you are looking to meet guys later in the evening, without the go-go show and accompanying high drinks prices, this is the place to go.  There are still several massage shops in various locations across town.  Some long established, like His Club and Classic House, other newer places like Paradise and Common Massage.  Punters are sometimes reporting that massage boys are more reticent than they used to be, and prices are inclusive of that "tip", reducing the incentive to provide full satisfaction.  To avoid disappointment, discuss your expectations with the mamasan before choosing your masseur.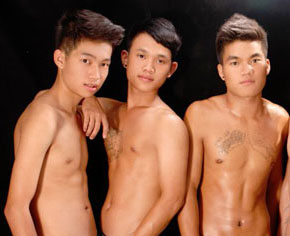 Shan Boys at Adam's Apple Club Chiang Mai
Meeting gay Thai guys
Chiang Mai's two gay saunas are always well patronised.  Club One Seven is located on Chareon Prathet Rd., (same as gay Soi 6), south of the city.  It offers a guest house as well as a sauna with nice clean modern facilities, despite being in a beautiful antique teakwood mansion.  Club One Seven is situated in a great location right on the Ping River bank.  The other sauna, House of Male, is located near to Nimmanahaeminda and has new owners following the death of Arthur, its long time proprietor, last year.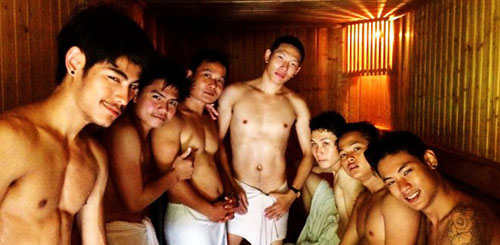 Sauna boys at Club One Seven Chiang Mai – Sauna and guest house
Perhaps the most effective way to hook up with guys is online using dating apps like Hornet and Grinder which are very prevalent in Chiang Mai, along with social media.  You might be surprised at the numerous sexy guys who are waiting for you.  A lot are just looking for fun.  Obviously, if you are a foreigner, those with financial aspirations will soon make the fact known.  When arranging to meet up be discreet, remember it's probable they do not want to be seen with you in public to evade any implication of prostitution.
For details of all the gay venues in Chiang Mai please consult our map page.  For all up to date news and gay events visit www.gayinchiangmai.com