Life in Siem Reap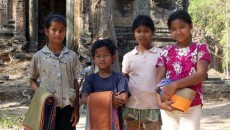 "It's sunny here and hot. It's normally hot and very frequently sunny. There are a gaggle of small children trying to sell me water and bananas and silk scarves and looking interestedly at the latest iPad I have. I'm looking at 1,200 year old ruins. Last night I spent in a modern, bustling city with a thriving nightlife at a busy gay-owned bar, celebrating the 40th birthday party of a friend of mine. A land of stark contrasts …
Where am I? SIEM REAP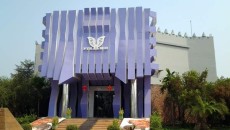 You too can come and join in the fun. You can soak up the history and the attractions during the day and take in the exciting nightlife in the evenings. In between, have a massage, shop at a local market, take a ride on a boat or a motorbike or a tuk tuk or a bicycle, or just walk around.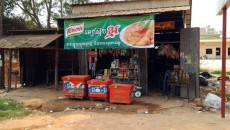 Why do I love Siem Reap and why have I settled here? That's a difficult question. Sure, it's a third world country. Sure, the electric goes off with alarming frequency, leaving you at the mercy of candles, mosquitoes, stifling heat (no fans and no A.C.) but that's only a part of it.
It's the people I think. They are very different from Thais in ways I can't begin to describe. I'll give just one example. I am friendly with the motorbike boys outside the guesthouse. We laugh and joke since I'm overweight and frequently prefer to walk, rather than take a bike. One of the boys is also portly and we joke frequently. Anyway, the other night, I came out of my room, to walk into town, and one of the boys asked me where I was going. I replied that I was going to the Old Market. He said he was going home, which was in that area, and he would take me for free. So as to keep the friendship going, I jumped on the bike. When I got off, I tried to put a dollar into his pocket. He strenuously refused it, saying he had taken me as a friend. I didn't press the point as I could sense he would be offended. I just thanked him profusely and said "see you tomorrow". He smiled and said "bye". Would this have happened in Thailand? I think this is one difference.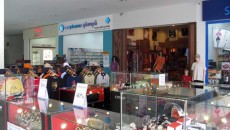 Now what makes this place. To sum it up in a few words – the contrasts. Many people are dirt poor. The average worker's wage is $1.50 a day picking rice in the season. There are many poor people in the town, and you frequently see small children, many under 10 years old, scavenging rubbish sacks for plastic bottles. Frequently this is in the middle of the night, when their western counterparts would be snugly tucked up in bed. If you go into the country, the people obviously don't have a bean. They live in bamboo shacks, with no electricity, BUT THEY'RE HAPPY. One waiter I know in Miss Wong, says he lives in such a shack. He pays $20 a month for rent. And that's a lot. He bicycles 10km each way every day to work. But he makes good money ($150 a month) and he's happy. The tourists in the town earn thousands of dollars a month each. They come and spend vital money in the bars and restaurants. Sometimes they spend in a day, what these people earn in a month. Their clothes could cost a year's wages. Their latest iPad certainly does. And everyone lives together. There's no obvious jealousy.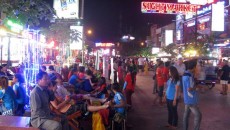 It's a great place to visit. There are the temples at Angkor Wat of course. They take most of the tourists in the day. But there's much more to do besides. Then at night the city itself comes alive. There are hundreds of bars and restaurants. Four gay bars (Station Wine Bar, Linga, Miss Wong and Ei8ht Bar), some gay owned restaurants, one truly gay resort (Men's resort) and many other hotels and guesthouses that are gay owned and managed (such as the Golden Banana resort where I have my weekend office, looking out at their pool).
Then there's the massage places. Some ordinary ones with boys outside (many who are not gay or even gay for pay!) Some of them are overtly attracting a male only customer base, with all the services you'd expect from that. And it's all in a city of 120,000 people. A city whose population is swelled by 2,000,000 tourists each year. A city of contrasts.
Anyway – enough waffle. Siem Reap is my home. I've been here a long while now and wouldn't willingly live anywhere else. If you want to try it – contact me though my company – Rainbow Website Design – www.rainbowwebsitedesign.com. You can read all about gay Siem Reap, including a page on "what to do" at www.cambodiagaytravel.com
Use the contact page on either to send me a message and I can show you round and help you find guides to the temples and the scene when you come
See you soon …
Nicky