HAPPY HANOI
By Alan S. Brown
Recently, I spent a few days in Hanoi on my annual Escape from Songkran holiday. Not sure whether happy is the best modifier for Hanoi, but, hey, I like the occasional alliteration every now and then.  Actually the northern Vietnamese city is quite quaint and beautiful and offers lots of sightseeing. Hanoi is a short hop from Bangkok. I flew on Vietjet Airlines, which is a budget carrier, but perfectly acceptable; and, unlike some budget carriers, it flies from Suvarnabhumi Airport.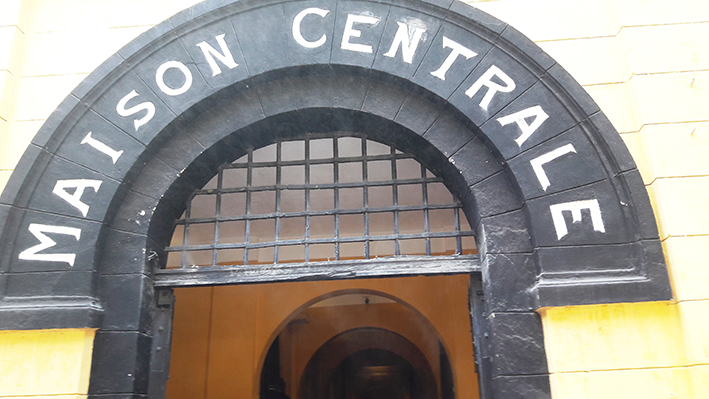 I stayed at the Hanoi Marvelous Hotel, conveniently located right in the city's old quarter. My room was beautifully appointed and very spacious. The hotel restaurant serves delicious food, as well. They also offer traditional Vietnamese massage, which, alas, I did not try. It's also a good place from which to explore the old city where you can discover all kinds of small shops, food stands and restaurants. Whether you're looking for jewelry, art, a snack or great restaurant, you'll find it there. Most of the streets are marked, but they seem to change names every block or two, which can get quite confusing. If you have a smart phone with data access, you'll appreciate the GPS. Otherwise bring maps. I also found that the locals were extremely friendly and accommodating and quite willing to help with directions if you're lost. If you're lucky, they might even speak some English. You'd have to be really brave to try driving or riding a motorbike on your own. Ask your hotel which taxi services are reliable. Be wary of motorbike taxi drivers. They can be aggressive and overcharge.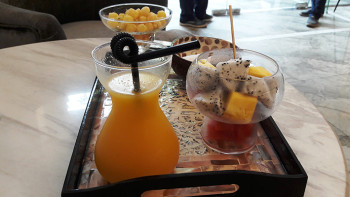 After check-in, I took a short walk to Hoan Kiem Lake (Lake of the Restored Sword). You can stroll around the beautiful lake and walk across the iconic red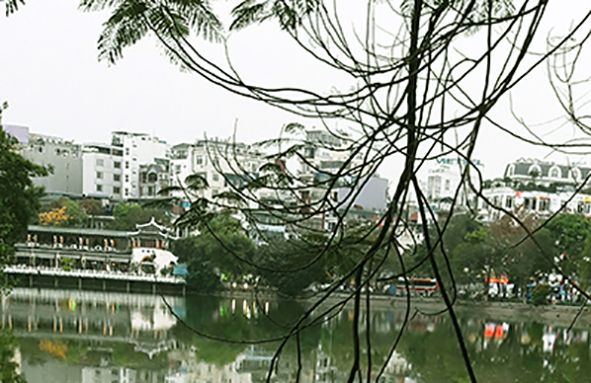 bridge to the small island to see Ngoc Son Temple. The lake is a great place to chill out and relax. It's also a popular cruising spot. While I was relaxing on a bench, three young men walked up to me and started chatting. The trusting soul that I am, my first thought was they were going to steal my phone. My second thought was, OMG, am I getting that lucky? It turned out that their intentions were neither nefarious nor salacious (darn!!). They were university students and just wanted to practice their English. Alas, it started raining and the encounter was cut short. On a hot afternoon, there are some coffee shops that sell the popular beverage, as well as, delicious ice cream concoctions. By the way, traditional Vietnamese coffee is quite strong. 'Weasel' coffee (civet dung coffee) is a Vietnamese delicacy.
You can spend hours wandering around the winding lanes of the old city. Be careful when you attempt to cross the street as the drivers speed down the narrow roads and don't seem to slow down for anything. It's a bit like crossing the street in Pattaya only even crazier. Don't forget that they drive on the right in Vietnam. The ancient quarter affords the opportunity to soak in the old colonial architecture. Look for St. Josepeph's Cathedral as an example. I also came across a French colonial era school still in use.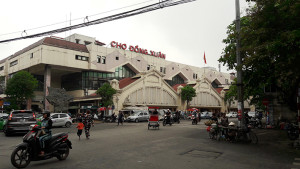 Those who were around during the Vietnamese War era (In Vietnam it's actually known as the American War for obvious reasons.) may be interested in visiting Hoa Lo Prison (aka The Hanoi Hilton). Most of the original facility is now replaced by two big condo towers, but the guard house area is a museum with replicas of the jail cells used to house Vietnamese revolutionaries during the French occupation. It also has the guillotine used by the French. Later, during the Vietnamese War, it was used to imprison American pilots who were shot down over North Vietnam. Senator John McCain was probably their most famous inmate. According to the Vietnamese version, the American 'guests' were treated exceedingly well and even got to play games of basketball and volleyball in the courtyard.
There are many recommended sights and activities in Hanoi, including the Water Puppet Theater. Also highly recommended are the Fine Arts Museum and The Citadel. Check the Internet for more recommendations. There's also plenty of shopping to do in Hanoi. Trang Tien Plaza is an upscale mall near the Hanoi Marvelous Hotel. There's a bustling weekend night market that is adjacent to Dong Xuan Market, which is housed in a Russian era building and offers just about everything you can think of; and, of course the various shops in the old quarter. Hang Gai Street is also known as Silk Street for obvious reasons. Likewise, Hang Bac Street translates to Silver Street.
If you want to use Hanoi as a base for a day trip or two, there are lots of opportunities. Highly recommended is a day cruise to Halong Bay in the Gulf of Tonkin where you'll see emerald green waters and thousands of limestone peaks rising from the water. You can also book an overnight cruise.
There are very few gay bars, per se, in Hanoi.  One, GC (Golden Cock) is near Hoan Kiem Lake. It gets busy on weekends, has a pool table and loud music but no dance floor. Lots of venues, though, welcome everyone, gays, straights and in between.  As mentioned earlier, Hoan Kiem Lake is a popular cruising area; and, of course, it's easy to make new friends on the various internet aps. Make sure to establish whether the young man is looking for money or not.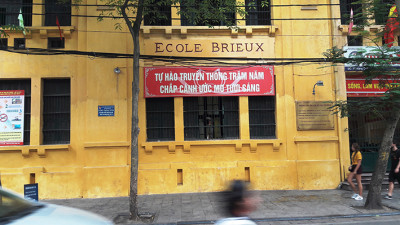 There are, actually several gay saunas, in Hanoi which get pretty busy in the late afternoon and, especially, on weekends. A popular one is B Spa. It has four floors with several lounge areas where you can sit around and show your stuff. Cabins are available to take it private. Surprisingly, a good number of the young guys were interested in getting to know the occasional older (and fatter) westerner. I must say, though, not the cleanest place; no comparison, say, to Sansuk Sauna in Pattaya. There are also quite a few male to male massage parlors, which offer a variety of options, including 'body to body' massages.
If you haven't visited yet, you should definitely put Hanoi on your bucket list of places to go.

Hanoi Marvellous hotel & Spa
Add: 55 Đường Thành street,Hanoi – Vietnam   Tel: +84 4 32669240
Email: booking@hanoimarvelloushotel.com
Website: www.hanoimarvelloushotel.com
Vietjet Air:  www.vietjetair.com