Ten years in Gay Chiang Mai
By David Edwards
As Thai Puan celebrates ten years of publication, we look back at what has changed in Chiang Mai over that time.  Chiang Mai continues to be a major construction zone with some areas almost unrecognisable from ten years ago.  Whereas then, the Night Bazaar was considered the centre of town, the growth of new areas, like Nimmanhaeminda Road with its many bars, restaurants and boutique shops have changed the urban landscape.
As well as the interminable new condo buildings, and row after row of shop houses, the city has witnessed the birth of several new shopping malls.  Out of town, a new corridor has grown up around the superhighway and ring roads, with Central Festival being the latest centrepiece mall.  Other developments include Promenada, Mee Chock Plaza, Star Avenue, as well as several large retailers.  These cater for the ever-increasing numbers of people living in new moo bans built outside the city centre.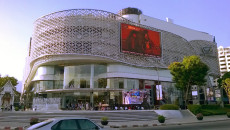 In the city, massive development has occurred around the Nimmanhaeminda Road and Huay Kaew Road intersection.  The 2014 opening of the Maya lifestyle mall, along with the Tan Eastin Hotel and Think Park, have made this area a major hub for retail and leisure activities.  Meanwhile the nearby old neighbourhood of Santitham, home to most of Chiang Mai's gay nightlife, past and present is transforming into a major residential and entertainment zone packed with dormitory style apartments and many fun places to eat and drink.
As might be expected, the last ten years have seen many changes for gay businesses in Chiang Mai.  Some places are still going strong, particularly those places related to the commercial scene such as go-go bars and massage shops.  Many more have been and gone and a few old favourites are sadly missed.
Still Going strong: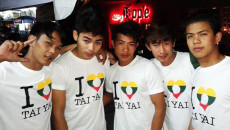 Chiang Mai's best-known and longest established gay go-go bar, Adam's Apple Club with its raunchy show, remains the most popular place for foreign visitors.  Closed between 2006 and 2009 the building underwent a complete renovation and the club continues to attract many gorgeous dancers from Burma's Shan State, together with an appreciative audience of admirers.
Located opposite Adam's Apple Club and opened more than twenty years ago, the Lotus Hotel is still the only full service gay hotel in Chiang Mai and retains a loyal following.  The adjacent Garden Bar, now substantially more luxurious than its origins as a bamboo shack, is still there too.
The other remaining go-go bars: Circle Pub, Free Guy and New My Way, have changed little in ten years and continue to ply the same wares and same shows.  Gay massage shops come and go at quite a rate, but several places that were more successful are still with us, notably: Marn Mai, Blues Club, Top to toe (formerly One 2 Come), His Club, Gemini and Classic House.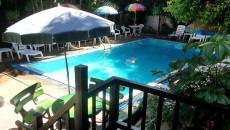 Chiang Mai's House of Male gay sauna is another traditional institution that has stood the test of time and remains as popular as it ever was.
Soho bar and Guest House has just celebrated its tenth anniversary party with some of the former owners present.  Shauna, the current owner continues to make it a place where LGBT can relax and socialise in a friendly environment free from hustlers.  At nearby PJs Place in 2005, the paint was a barely dry at this purpose built luxury guesthouse, which has become a yardstick of quality gay accommodation in Thailand.
Sadly missed:
                        One of Chiang Mai's legendary bars was Coffee Boy, situated in a traditional teakwood house.  This host bar was a unique example of Lanna style where customers sat on cushions on the wooden floor, whilst watching the show or drinking with the host boys.  Once considered to be the best gay bar in Thailand it has been in slow decline since the nineties and closed several years ago.
A popular sauna was Spa Roma, with its large outdoor swimming pool next to the river.  The fit younger Thai customers appreciated the well-equipped gym and the labyrinth style building with its dark corridors made it an interesting place to explore.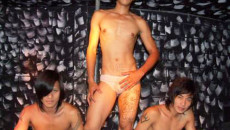 Chiang Mai's two gay owned wine bars Darling Wine Bar and Glass Onion offered some interesting social interaction.  Both were run by larger than life characters who could be just as cantankerous as they could be charming.  Sadly, Lucas, Deang and Kris are all no longer with us.
A big attraction, at its best in the halcyon days of 2005, were the outdoor beer bars around the Peak Climbing wall.  Here were a group of friendly bars: Friendship, Chez Nous, Paradise, MTV and Cupid; very popular, with a lively mix of foreigners, money boys and regular gay Thai guys.  The Peak closed in 2009.
Been and gone:
Since the first issue of Thai Puan, many tens of new bars, massage shops and gay businesses have opened and closed in Chiang Mai.  Despite more businesses than customers, there is a seemingly endless supply of foreigners willing to finance their boyfriend's ambitions to open a bar.  Some last only a few weeks, others a few years.  Few, were noteworthy and most quickly fade from memory.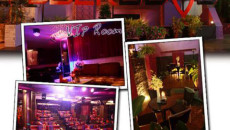 One that won't be forgotten so quickly was The Lavender Lanna Hotel debacle.  This high profile conversion of an old concrete hotel/condo into what was claimed to be "the biggest gay resort in Asia" was pure folly.  Located on a busy intersection opposite the sacred Hua Rin corner of the moat and next to Chiang Mai's largest private hospital, it was hardly discreet.  The proposition included a go-go/cabaret bar (Power Boys), gay massage and sauna with pool among the amenities.  A large advertising budget generated lots of hype among visitors, whilst locals watched on waiting for the inevitable crash.  It survived only a few months before the project's mastermind died in an apparent "suicide" leaving a legacy that did nothing to enhance Chiang Mai's reputation as a gay destination.
Changing attitudes:
In ten years, the biggest changes have been Thai attitudes towards gay people and prostitution, coupled with the upsurge in social media, gay dating websites and smart phones.  A landmark change for gay people in Chiang Mai occurred on 21 February 2009; a shameful day for Thailand as a whole.  Chiang Mai was disgracefully brought to the attention of the world, not because of its seven hundred year history, Lanna architecture, cultural heritage, temples, natural beauty and fabulous people, but because of a small prejudiced minority with a political agenda who used threats of violence and mob rule to halt Chiang Mai's second gay Pride Parade.  This left many LGBT people more cautious about where they went and what they did.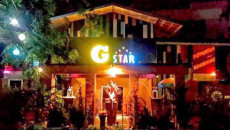 More recently, confidence is returning with the opening of two large Thai gay venues, See Man Pub and G-Star Vintage.  However, changing attitudes have created a rift in the gay scene.  Whilst the big Thai bars remain popular, the clientele is exclusively younger Thais, whereas, the scene for foreigners is largely dominated by bars, which include some elements of prostitution, often involving, hill tribe or Burmese guys rather than Thais.  Predictably, Thai gays and even money boys are now not seen so often in foreigner bars because of that stigma.
That doesn't mean money boys have become extinct, just more inconspicuous.  Plenty can be found online who are extremely happy to arrange private hook-ups provided their friends don't know.  Even in places like G-Star, guys are very reluctant to be seen leaving with a foreigner, but quite happy to give their Line or facebook ID for future more discreet interactions.  For meeting gay Thais in Chiang Mai a smart phone has become the indispensable tool of conquests.
The explosion in trendy new bars and restaurants in Chiang Mai, the decline of the traditional gay bar and the lack of any obvious homophobia has meant gays in Chiang Mai have plenty of choice and don't just go to gay places, resulting in a more mixed and diluted scene.  Of course, there are still plenty of gay places to go in Chiang Mai, for more information check out our listings or visit www.gayinchiangmai.com