Chiang Mai – What to do when it rains
By David Edwards
September is historically the wettest month in Chiang Mai and one of the quietest for tourism.  Whilst many prefer the cool nights and warm sunny days of the winter high season, others relish Chiang Mai's quiet season.  Although a little calmer, gay nightlife continues as usual, and during the day, if you plan flexibly, there is no shortage of places to go
It rarely rains for prolonged spells; more typical are heavy thundershowers with torrential rain lasting for a short period of fifteen minutes to an hour or so.  Showers are more prevalent in late afternoon and evening and if you are out and about, the best thing to do is just wait until it stops.
Substantial cloud cover keeps temperatures down making it comfortable for sleeping at night and it is not such a bad time to explore the old city's many temples and back lanes on foot.  Just remember to take an umbrella!  Sandals and long shorts (below the knee) are recommended attire unless you want soggy shoes and socks.  Remember Thai etiquette: skimpy shorts and bare shoulders are discouraged, and a taboo if entering a temple.  Sandals are also easy to slip on and off when entering temples.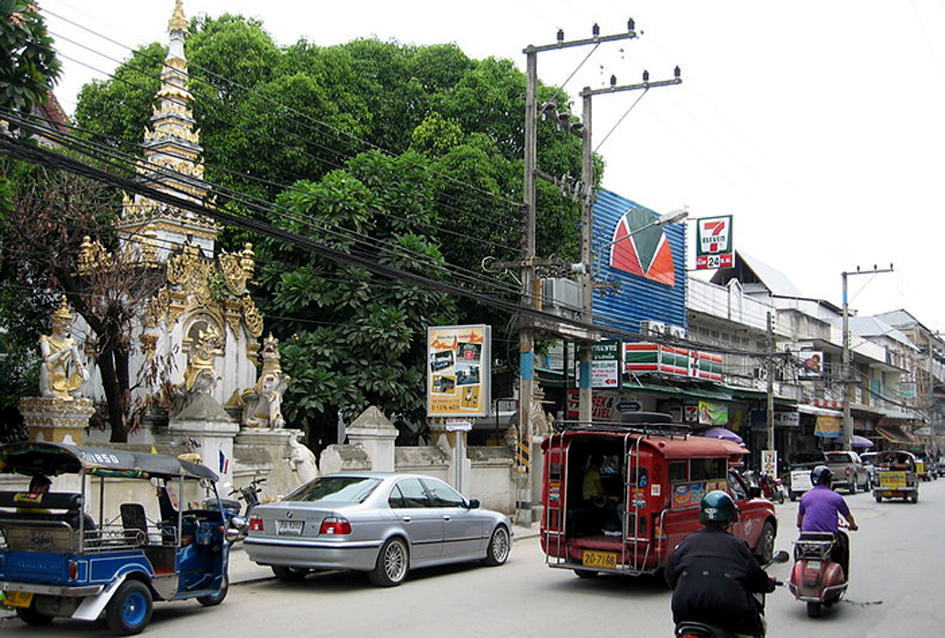 With a thriving coffee culture, ever more chic and trendy coffee shops are springing up around the city.  There is usually one not far away to provide shelter if it does rain, or just to chill for an hour or two with a cappuccino.  In recent years, a blossoming coffee industry has developed in northern Thailand as Hill Tribes cultivate coffee beans as a replacement crop for opium.  Many coffee shops now sell this "Hill Tribe" coffee and for coffee aficionados it is definitely worth trying.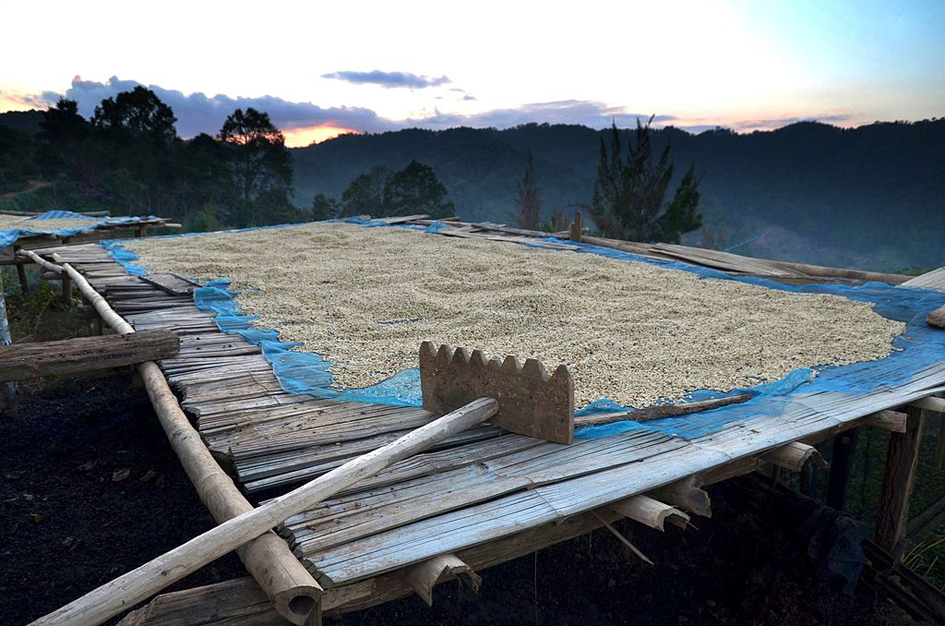 Chiang Mai is experiencing growth at a phenomenal pace as it races to catch up with the Asian economic dragon.  The city has already changed profoundly in the last decade or so and in another decade will likely be almost unrecognisable.  New luxury condominiums, shopping malls and commercial developments are springing up at a frightening rate.  This is particularly true in the Nimmanhaeminda and Chang Phueak areas, north west of the old city.
Perhaps the highest impact project in the city is the Maya Lifestyle Shopping Center (www.mayashoppingcenter.com) strategically located at the intersection between Huay Kaew Road, the Superhighway and Nimmanhaeminda Road.   This very modern building offers not just retail therapy, but a host of coffee shops, small restaurants, a Food Bazaar, 10 screen cinema complex, and beauty salons.  It is as much a place to hang out as it is to shop and a good place to while away a few hours in the afternoon.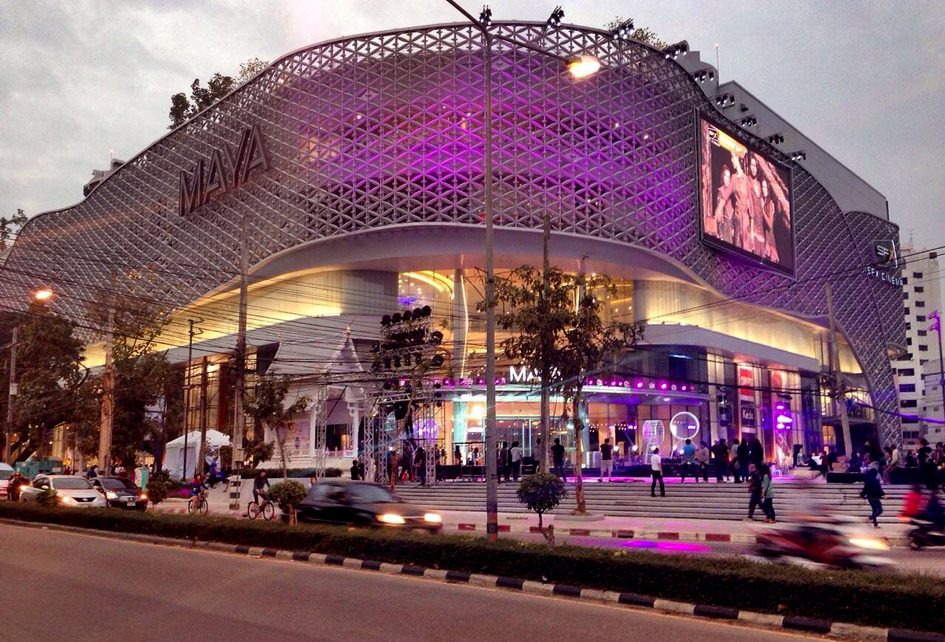 Across from Maya, at the start of Nimmanhaeminda Road, Think Park is another area of hip bars, restaurants and coffee shops.  Further up Huay Kaew Road is The Harbour, a low rise outdoor mall modelled on the architecture of a north Atlantic fishing village.  Having started as a boutique retail area, the Harbour is now reinventing itself with a range of interesting restaurants, bars, and yet more coffee shops.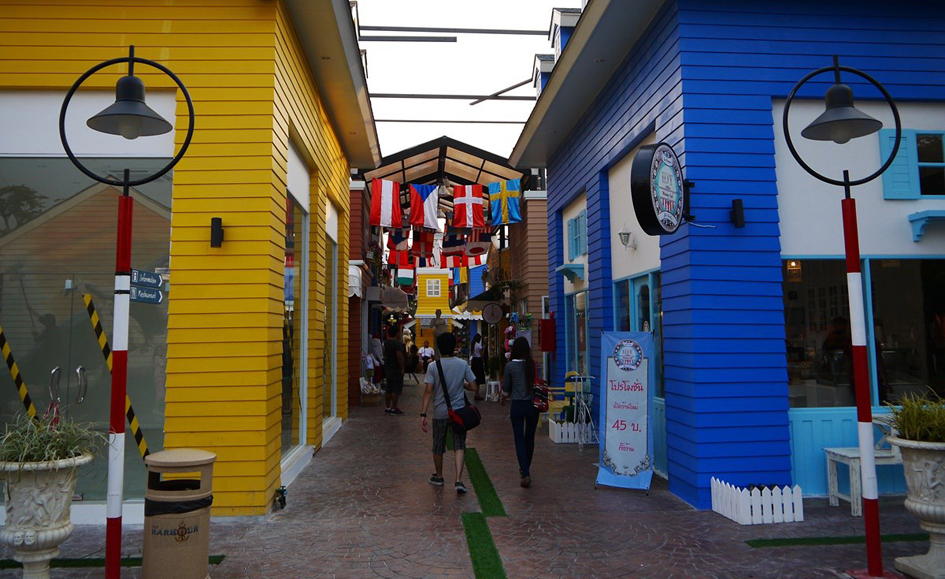 The two biggest mall developments are out of town to the east of the city off the main highway 11.  Biggest is Central Festival, which follows the format of other Festival Malls in Thailand and includes the usual range of shops including a central department store.  Promenada on the other hand, bills itself as a resort mall and is more like Maya with a higher concentration of eating and entertainment choices.  Back in town, the oldest mall, Kad Suan Kaew is showing its age, but still busy despite the new competition.  The other major mall in town, Central Airport is now quieter though.
A massage offers a great way to relax in the afternoon or evening and enjoy some special attention.  Chiang Mai has plenty of massage shops.  Many in the tourist areas offer only a massage, but there are a number of places offering gay massage for men by men, or more usually, cute massage boys.
Most gay massages are open from early afternoon until 11 p.m and follow similar formats.  Customers can choose their masseur from the available selection of boys and select the type of massage.  The fee for the massage is payable to the shop, however it is normal to give a "tip" to the masseur for his services.  Some specify the minimum tip.  Outcalls are also available to visit your hotel room, these normally specify an all in fee including tip.
The massage shops are spread around town.  Main locations are in the tourist area between Thapae gate and the night bazaar, Chang Moi district, near the river, Chang Phueak district near the go-go bars and gay hotels.  Several more can be found around Chang Mai Land, a couple of Km south of the city center.
For some gay fun in the afternoon, Chiang Mai has two gay saunas where you can laze around the pool.  Club One Seven has been open four years,  and has a wonderful location right on the banks of the Ping River, a couple of Km south of the city centre.  The one hundred and thirty year old classically styled teakwood building is perfectly placed within lush tropical gardens with a river terrace offering superb views of the waters of the Ping as they serenely pass by on their long journey to the Gulf of Thailand.  Facilities include, bar, fully equipped gym, sauna, steam room and maze.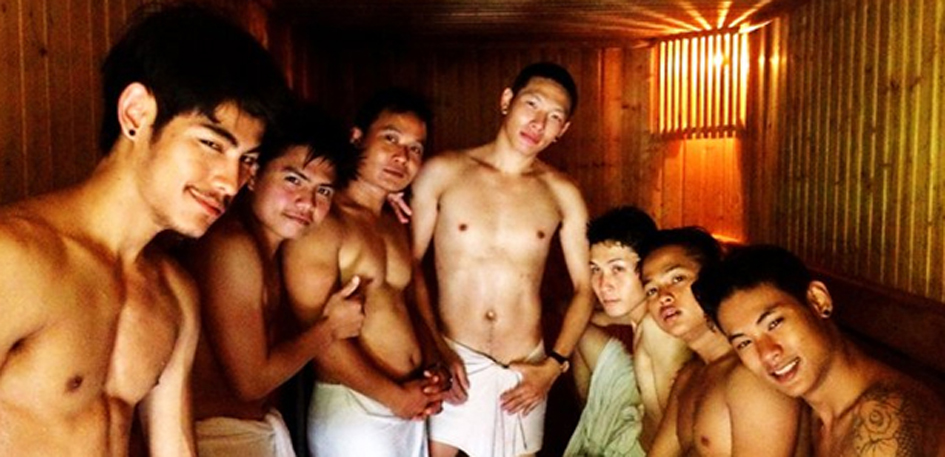 Club One Seven is also a guesthouse offering an ideal option for guests who like a relaxed and peaceful place to stay.  They offer eleven different air-conditioned rooms in various styles providing a unique real Thai experience.  Deluxe rooms include vintage four-poster beds and antique wooden Thai style furniture to transport you back to the lifestyle of the ancient Lanna Kingdom.
Chiang Mai's other gay sauna with a pool, is the old foreigners favourite and Chiang Mai institution, the House Of Male, which opened around sixteen years ago.  Located on a quiet soi behind the Kad Suan Kaew shopping Mall, House of Male is close to both the trendy Nimmanahaeminda road area, Chiang Mai's smart nightlife district, and Chang Puek/Santitham where most of the gay hotels and guest houses are, as well as many other gay venues.

House of Male too is situated in a magnificent old teakwood house with exhibits many traditional Lanna style design features.  Facilities include a small gym with weights etc, and an outdoor space with lounging areas around the pool, a steam room and showers.  A bar and relax area is also located downstairs.
A relative newcomer to the Sauna scene is Out Sauna, this opens only in the evening and attracts the late crowd after clubbing at nearby G-Star Vintage one of Chiang Mai's two big gay clubs located in Chang Phueak.  The Other is See Man Pub near the Nimmanhaeminda area.  Both clubs have a show with coyote boy dancers, are open late and very popular with younger gay Thais.
For other gay nightlife, Chiang Mai has four go-go/host bars with sexy shows, and a number of beer bars catering to gay foreigners.  There are also several gay owned restaurants.  For more details see our map or visit www.gayinchiangmai.com, which has a full online guide and all the latest news from gay Chiang Mai.