Chiang Mai – Festivals and Hotels
By David Edwards
November heralds the start of Chiang Mai's splendid and much anticipated cool season. This is the time of year when many friends return for the more temperate winter climate, and the festivals begin. The biggest event, Loy Kratong, is known locally as Yee Peng, with the main celebrations from 9th to 10th of November. This article provides an insight to the month's festivities and makes suggestions on places for visitors to stay.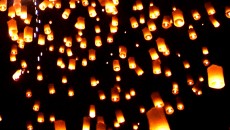 Kom Loy fire lanterns fill the sky during Chiang Mai's Yee Peng festival
Held at the full moon, Yee Peng is an ancient festival. Kratongs, small banana leaf floats holding candles and incense, are set adrift on waterways all over Thailand floating away bad luck and appeasing the goddess of water. Hundreds of small lights drifting serenely along the river make a beautiful and enchanting display.
Kom Loy fire lanterns are launched everywhere filling the night sky with lights as they float silently skyward yet accompanied with the constant crackle of fireworks. Revelry is centred on the Ping River at Narawat Bridge, where Thai's gather in large numbers to float their Kratongs, launch Khom Loys, and party well into the night. It can seem like a war scene bursting with people launching fireworks, and throwing firecrackers. Kratong parades take place around Thapae gate down to the river with carnival floats carrying large decorative Kratongs accompanied by escorts in beautiful Lanna costumes. The local college groups; handsome young northern Thai guys parading wearing nothing except Lanna style Sarongs are an especially appealing sight.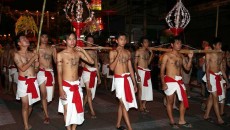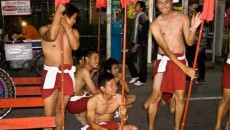 Thai Students carrying their kratong in the parade. (Courtesy asiacoop.com)
For new gay visitors to Chiang Mai seeking advice on where to stay, PJ's Place is the undisputed standard setter for gay accommodation. A boutique guesthouse, PJ's combines luxury hotel standards with the friendliness of a small establishment. It's beautiful, tranquil garden location, set in a quiet lane off Huay Kaew Road, gives an impression of not being in the city.
The owners, long-time boyfriends Jiab and Peter, are the perfect hosts, renowned for their hospitality and service. Accommodation comprises four deluxe rooms and two suite houses all in a modern chic style that retains classic Thai influences. All rooms are en-suite, air conditioned and have facilities such as minibar, tea/coffee and in room safe, normally only expected in large hotels. Your hosts are a perfect source of information about Chiang Mai and can arrange tours and provide every other assistance to make your stay enjoyable.
Over several years PJ's Place has built up a dedicated following of repeat visitors, which leads to only one complaint: "they're fully booked"! Especially during high season and festivals; early booking is strongly advised. Alternatively, located close to PJ's is the popular Soho bar and guest house; now under new ownership since August. The area is close to many amenities, such as the Kad Suan Kaew shopping mall and gay venues such as La-vie-en rose, Darling Wine bar and many great restaurants. Popular gay Sauna, The House of Male, located in a beautiful old Lanna style teak wood mansion is also nearby.
Following the teak wood theme, Santitham Guesthouse is in a vibrant neighbourhood close to gay nightlife, and Sabbai Dee restaurant, famed for its Thai food and eccentric decor, is next door. The absolute in teakwood grandeur can be found off the tourist track to the south of the city at the Club One Seven guesthouse. This majestic 130 year old Lanna style palace is right on the river in a peaceful tropical garden setting offering a selection of room types. Four poster beds provide the ultimate sleeping experience and a real feeling of life in the old Lanna world. Outside, a river terrace and comfortable veranda add to the relaxing charm. 100% Gay, the onsite Sauna, swimming pool and Jacuzzi complex is open to non-residents providing great opportunities to make new friends.
The favourite for many visitors is the Lotus Hotel, Chiang Mai's first gay hotel and the dowager queen of the gay scene. Founded by Lebanese gay entrepreneur Mohammed Jesr, more than twenty years ago, it has grown steadily into a luxury hotel. Mohammed used his skills as an architect and interior designer to develop a stylish, comfortable and homely hotel with six superior rooms, three deluxe rooms and five suites. All rooms are en-suite with A/C and full features. The hotel's white exterior hides a surprise; inside the feel is that of a teak wood house, marvellously decorated in a contemporary colonial style with many antiques complementing more modern aspects. The Lotus is a full service hotel with all the expected amenities including, laundry and concierge who can arrange travel and tours.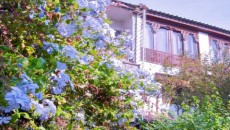 Lotus Hotel Chiang Mai in tropical garden setting.
Mohammed realised the potential of Gay Chiang Mai and the original hotel bar quickly became a popular gay hangout. He capitalised on this by moving the bar into new larger premises across the road which became the well-known Adam's Apple Club, renowned for its sexy boys and shows. Although Mohamed sold the club several years ago, it has since been re-modelled, remaining a popular and convenient attraction for hotel guests.
The Lotus Hotel's own outdoor bar, The Garden Bar, is a favourite among the gay ex-pat community and a great location to start an evening of bar hopping. As well as Adam's Apple, Chiang Mai's other go-go/show bars, Free Guy, New My Way and Circle Pub are all close by. Chiang Mai's go-go scene is different from elsewhere; many of the bar boys are not Thai but Shan (or Tai Yai) refugees from Shan State in southern Burma. These guys are generally more muscular and masculine than many Thai Gay boys more common in Bangkok or Pattaya bars.
Shan people have their own culture, dress, calendar and language, which is significantly different from Thai. The lunar New Year in Shan is around two weeks after Loy Kratong and "Pee Mai Tai" is the biggest festival of the year for the Shan people. If you are visiting then, the go-go bars maybe disappointing; much to the annoyance of the bar owners, it's the time when the guys forget work and go party. Instead, head down to the main event at Wat Ku Tao in the Chang Puek District and see this fun and colourful celebration for yourself.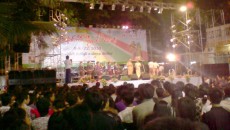 2010 Shan New Year (Pee Mai Tai) celebrations at Wat Ku Tao – Chiang Mai
The festivities run for three days and the event is packed with people. The Wat is full of stalls selling traditional Shan food, clothes and other items such as books and DVDs. The incessant beat of classic-style temple drums and symbols fill the air with small groups of young men dancing trance like around the drummers. The evening sees a live stage show starting with traditional Shan dancing and cultural activities, followed by more contemporary Shan rock later. Many dress up in their traditional colourful tunics, including lots of good looking Shan men.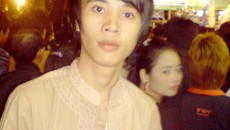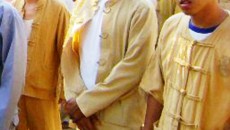 Handsome Shan men in traditional costume at Wat Ku Tao
If you'd like to find out more about the Shan State visit the Best Friend Library located on Nimanheminda Road Soi 13 or visit www.thebestfriend.org. The library is an excellent resource on the Shan State and leader of charitable activities supporting the Shan people.
For more information about the events and venues mentioned here see our listings or visit www.radchada.com
Mai Soong Pee Mai Tai – Happy Shan New Year!