Beaches around Hua Hin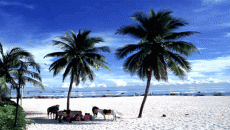 The beach lover can't fail to be impressed by the number of good beaches not just local to Hua Hin but within an hour or two's drive. There are at least 5 good ones between Hua Hin and Prachuab, a great way to spend a day out of town.
Hua Hin and surrounding local beaches such as Khao Takieb, Suan Son and Khao Tao (Haad Sai Noi) are described in more detail here. The main Hua Hin beach has now become very popular and can get quite crowded in town and just in front of the Sofitel. Deck chairs and tables are for hire along with Thai massage, horse rides and and all manner of other vendors and their wares. Jellyfish can be a problem at certain times of the year, especially in the rainy season between July-October.
For those looking to get away from the crowds and see a little more of the surrounding area read on. This page will focus on beaches a little further out.
Khao Kalok is a bit of a mission to get to but well worth it. Drive to Pranburi and head towards Paknampran then take the second major turning on the right (not the Sam Roi Yod one). Follow this road for about 10km and make a right at the t-junction, follow the road round and follow the signs, it takes about 40 minutes. There is a long beach with a concentration of good restaurants at the end. It also has a large rock outcrop with a hole through it that shelters part of the beach (there are always Thais hiding under it).
Phu Noi (Sam Roi Yod) is around 45 minutes drive away. As before drive to Pranburi, left at the lights and right at the first main turnoff. Follow the road straight for about 15km and turn left when you reach the big temple at Phu Noi. This road leads down to the beach. Not the best beach in the area but there are plenty of guesthouses and restaurants along the beach road where you can stop for a bite to eat. There are better beaches further into the National Park.
Ao Manao (Prachuab) has got to be one of my favourite spots. It takes an hour to get there. Drive to Prachuab, turn off towards the city and follow the English signs to Ao Manao which will take you through the city, over a runway and into an army base. When you see the colour of the water here you'll think you're on the Andaman. Very popular with Thais and very few westerners here, the beach is great, ideal for kids (although does get jellys in the season) and loads of food options. No better way to spend a Sunday afternoon.
Ban Krut is a small coastal town around 45 minutes drive south of Prachuab. It is sign posted off the main highway and takes a further 20 minutes or so to get to the beach. There are a number of resorts along the long stretch of golden beach and the area is very popular with Thais, expecially at the weekends and holidays. Probably too far to go for a day out but it makes a great little break for a night away by the beach.
Bangsaphan is only 20 minutes from Ban Krut. There are a few expats living in this small, quiet town and it also is popular with locals. Accommodation options are somewhat limited but there is one three star resort and a number of beach bungalows. There is even a little beach bar to while away the hours nursing a cold beer and watching the tide come in. Other attractions near Bangsaphan include Koh Talu, a small island and the first place south of Bangkok where you can go scuba diving and snorkelling.
Chumphon
Three hours drive south of Hua Hin brings you to Chumphon. The main long beach with golden sands and crystal clear seas is located around 15km north of the city. Follow the signs to the Cabana resort to get to the beach. There is also a scenic road that runs along the coast from Bangsapan. Accommodation options are limited and it will appear that the Cabana has the monopoly (it certainly does on the web) but there are several other guesthouses and resorts to choose from along the beach. Diving and snorkelling trips can be taken out to the islands of Koh Ngam Yai and Koh Ngam Noi an hour away and you can also take the Lomprayah or standard ferry to Koh Tao from town. There are more good beaches further south of Chumphon.